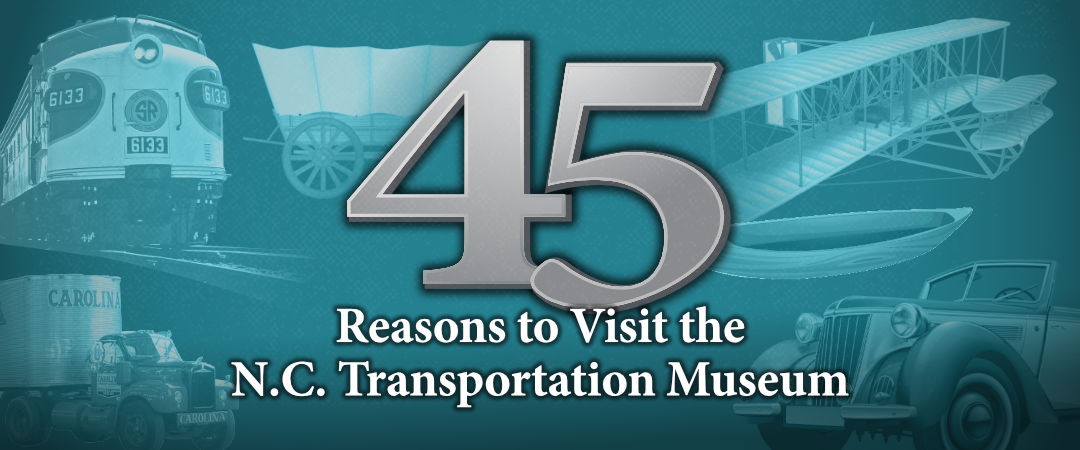 45 Reasons to Visit
If you've ever heard about the museum that features trains, planes, and automobiles in the quaint town of Spencer, North Carolina, let us tell you, there has never been a better time to visit us! The North Carolina Transportation Museum is set on the former site of Southern Railway Company's 1896-era Spencer Shops, the railroad's main locomotive servicing facility. The museum has the largest collection of rail relics in the Carolinas, but don't let that mislead you! This is more than a stuffy museum full of only railroad artifacts; it is an immersive experience that provides interactive activities and a full calendar of events great for not only rail fans but families too!
The 'Museum that Moves You' was founded in 1977 making this year our 45th anniversary. To celebrate, we've compiled a list of 45 reasons to visit the museum. Check out the list and be sure to visit us soon!
Clock 2,000 or more steps through what was once Southern Railway's largest steam locomotive servicing facility
Purchase train tickets in a train station built in 1898
Take a 25-minute train ride to see the 60-acre museum campus
Take a trip to the North Pole to see dancing elves and the first gift of Christmas on THE POLAR EXPRESS™ Train Ride
Drink a craft beer while riding a train during the annual Brew & Choo Craft Beer Festival
Walk down outdoor pathways flanked by friendly scarecrows during The Scarecrow Stroll in October
Hear the stories of railroading legends during an evening Legends by Lantern tour also in October.
See a 1901 White Stanhope – steam powered car with a two-cylinder engine connected by chain to the rear axle
Get electrified with our Rausch and Lange Company's 1918 automobile, an electric car with no steering wheel, rather a till that could be operated from both front and back seat
Get fired up with our antique fire trucks like the one used by Elizabeth City's all black volunteer Hook, Step, and Ladder Company
Stand in the spot that is halfway between Washington, D.C. and Atlanta, GA.
Take a spin on an operational turntable built in 1924 to turn locomotives for servicing.
See the largest remaining roundhouse in North America
Walk through a Railway Post Office (RPO) car and learn how mail used to be delivered
See a piece of WWII and Korean War history as you walk through a restored Army Hospital Car
Soak in the history with N.C.'s Forty and Eight Merci Train Car that was gifted by the citizens of France post-WWII
See the birth of an icon – the 1964 1/2 Ford Mustang (First model year Mustang)
See the personal carriage of tobacco giant R. J. Reynolds
See the railcars of industrial giants James Duke and Charles Schwab
See a steam locomotive with no firebox
Take a ride with Thomas the Tank Engine and Percy on a sojourn from Sodor
See one of the first N.C. Highway Patrol Cars (1935 Ford)
Ride in a caboose for your birthday
See the Atlantic Coastline 501 diesel locomotive "The Champion" – with over 6 million miles it is the most traveled E unit
Climb into the cab of a real steam engine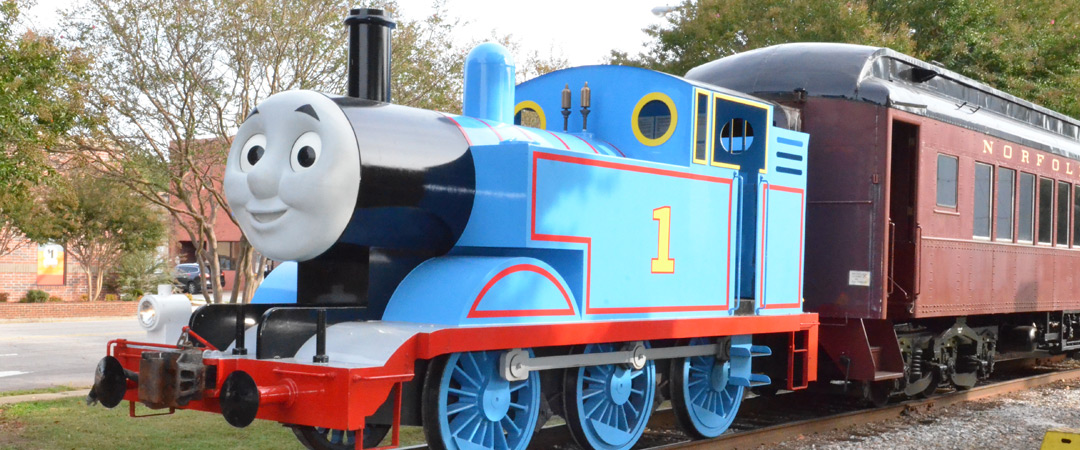 Follow the restoration work being completed on the Piedmont Airlines Potomac Pacemaker DC-3
See a 1922 American La France Fire Truck from Lexington, N.C.
Watch the Cackalacky train run around the Gift Station which is full of a variety of gifts that any train, car, or aviation enthusiast will enjoy
See innovative railway freight cars like the Big John, the Whopper Hopper, and the Autoguard
See the 200,000th box car built in Bessemer, AL by Pullman-Standard, maybe the most colorful boxcar ever built
See how railroad employees communicated with lanterns and signals
Learn about the expansion of railroads into Western N.C. in "How the West Was Won"
See the world's fastest Shay, Graham County No. 1925
Climb inside a diesel truck cab
Walk past vintage scenes in our Bumper-to-Bumper auto exhibit
Sip on a Cheerwine slushie while you watch the trains pass by (Purchase in the Gift Station)
Bring a picnic to enjoy in one of our shaded picnic shelters
Experience the history of flight with a life-sized replica of the Wright Brothers Flyer
Operate railroad signals in our signal garden
See dugout canoes up close, one of the earliest modes of water transportation in N.C.
Put yourself in the engineer's seat and operate a real diesel locomotive with the At the Throttle experience
Climb in a caboose and peer out the cupola
Learn about NC agriculture with farming demos, see modern and antique farming equipment, shell corn, milk a cow, make apple cider at Tractors and Trains
Ride in an authentic weapons carrier on special event days
Earn a BSA railroad and aviation merit badge
The N.C. Transportation Museum is located at 1 Samuel Spencer Drive in Spencer, North Carolina. For the summer of 2022, the hours are Tuesday through Saturday from 9 a.m. – 5 p.m. and Sunday from 12 p.m. – 5 p.m. The museum will be open on Labor Day. Train ride days and times vary throughout the year so be sure to check our Plan Visit page for up-to-date information.