June 28 – September 5, 2022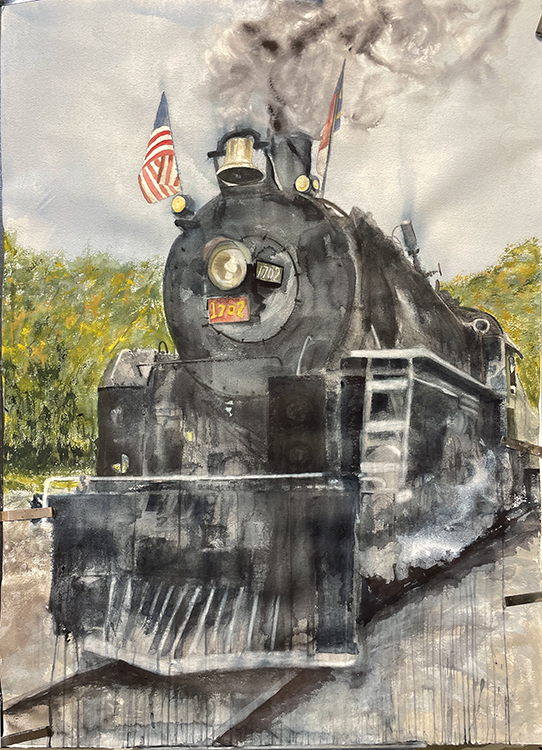 Trains that Make America: The Railroad Art of Nadine Charlsen
Born in Bird City, Kansas, Nadine Charlsen lived in Kansas throughout her childhood. Her father was an industrial arts teacher and furniture builder; her mother was an oil painter and teacher. She grew up with a hammer in one hand, a paintbrush in the other, and a tough kid attitude.
In 1983 she moved to Brooklyn, New York and received an MFA in theatre design from Brooklyn College. Charlsen continued to work in NYC and the surrounding area for 31 years. She worked for well-known designers as well as created her own set and lighting designs for Off and Off-Off Broadway. In addition, she painted murals for stores and private residences. Charlsen's background as a theatrical lighting designer in New York City for 31 years has allowed her to incorporate her knowledge of light, shadow, scale, colors, and textures to culminate an artistic drama. Her work is inspired by architecture, cityscapes, and serene countryside settings captured through the lens of her camera. Charlsen's theatre design career allowed her to work in many art mediums and explore scenic painting of large backdrops, sculpture, and 3-D mixed media.
In the past several years, her watercolors have received national and international recognition and publication.  She was recently juried into the American Watercolor Society (AWS) as a signature member. She is also a member of the Salmagundi Club-NYC, the National Association of Women Artists (NAWA), and a life member of the Art Students League (ASL) in NYC.
Currently based in Asheville, NC, her studio in the River Arts District is close to the previous location of the Southern Railway roundhouse in Asheville, the sister roundhouse to the one at Spencer Historic Shops. Railyards, locomotives, and other train scenes are common in Nadine's work, a selection of which will be on display at the North Carolina Transportation Museum June 28th through Labor Day 2022.
On Display June 28-September 5!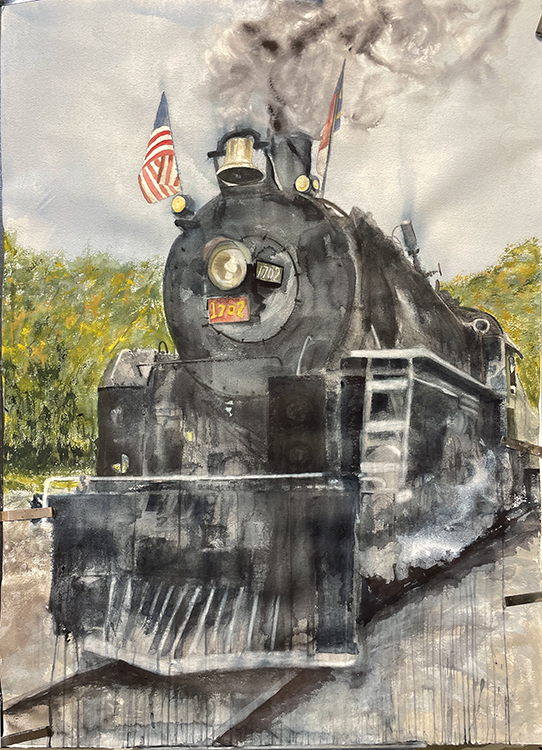 About the N.C. Transportation Museum
The N.C. Transportation Museum is home to the largest remaining operational roundhouse in North America, and numerous structures that represent what was once Southern Railway's largest steam locomotive repair facility in the southeast. The museum is part of the Division of Historic Sites and the N.C. Department of Natural and Cultural Resources.
About the North Carolina Department of Natural and Cultural Resources
The N.C. Department of Natural and Cultural Resources (NCDNCR) is the state agency with a mission is to improve the quality of life by creating opportunities to experience excellence in the arts, history, libraries and nature in North Carolina by stimulating learning, inspiring creativity, preserving the state's history, conserving the state's natural heritage, encouraging recreation and cultural tourism, and promoting economic development. NCDNCR includes 27 historic sites, seven history museums, two art museums, two science museums, three aquariums and Jennette's Pier, 39 state parks and recreation areas, the N.C. Zoo, the nation's first state-supported Symphony Orchestra, the State Library, the State Archives, the N.C. Arts Council, the N.C. African American Heritage Commission, the State Preservation Office and the Office of State Archaeology, along with the Division of Land and Water Stewardship. For more information, please call (919) 807-7300 or visit www.ncdcr.gov.